Just Who Is this Reluctant Cook?
Like most girls of my era as well as most who grow up in today's world, I didn't think much about cooking.  Time spent in the kitchen, learning from mother, was sparse.
When I was nineteen and married that man of my dreams, I ended up all the way across the country from home without knowing the first thing about cooking.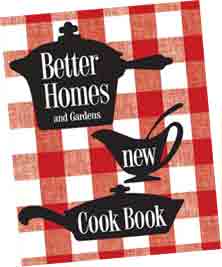 Knowing we couldn't eat out in restaurants all the time, I purchased the red-checked Better Homes and Gardens Cook Book and started learning.
Fortunately, we lived near my Italian mother-in-law who shared her knowledge and experience as I conquered the basics.
Fast Forward 63 years later!
Today, 63 years later, through the process of raising a family, working in offices while putting my husband through college, as well as starting and growing several successful businesses, I have learned the secrets of putting quick, easy, healthy meals on the table.
Like anything, there's no reason to reinvent the wheel so, I decided that I would share these secrets with you.
All the ideas and recipes are quick, easy, and relatively healthy.
No more opening a package of hot dogs, piling on the mayonnnaise and catsup in a bun and calling it dinner.   I remember when my husband finally got up the nerve to tell me that he was sick of hot dogs for dinner.
The last thing that any of us need, when busy bringing in the money to put food on the table is the guilt of knowing that we've shortchanged our family in the healthy category.
If you're like me, you probably have shelves of cookbooks
that have wonderful gourmet recipes in them.

I bought those gourmet cookbooks and even learned from Julia Child and other gourmet cooks.  I can make a flakey pie crust that would make your mouth water and have done my share of gourmet cooking through the years.
But, learning how to cook helped me discover ways to make things quicker and easier than taking time to go through the cookbooks and gourmet magazines, prepare the menus, and then discover when starting to cook that I didn't have the one essential ingredient.
Today, there are just two of us to cook for and I still operate Creative Gifts to Go,the gift basket business that I started 30 years ago. Taking time out to cook a big gourmet meal just isn't my thing.  Never was and still isn't.  It's even more important that the meals taste good, be relatively healthy, but be quick and easy to prepare.  I've  kept this in mind while putting together this collection for you.  The ingredients are not exotic or ones that you'll buy to use once in a recipe and then wonder what to do with the rest.  They are items that you can pronounce and can usually be found in most basic kitchens.
In addition, I've included some tips and hints for speeding up meal preparation.
Are the recipes that I'm sharing with you gourmet?  They aren't exotic or filled with lots of ingredients.  But gourmet means different things to different people.  To me, gourmet is simply food that tastes good. So, yes, using that definition, all of these recipes are gourmet.
And I invite you to share your recipes and tips so that together, we can create a powerful  resource for all of us who "hate to cook but love to eat."