Most of us Reluctant Cooks think budget along with Quick and Easy when deciding what to cook.  A dish may be quick and easy but if we have to go to the grocery store and buy ingredients that we will never use again, that isn't for us! it can be done. Here are five tasty meals that can be made for less than $10 each and will feed your whole family.
Here are five classic dishesthat are not only quick and easy but will also not break the bank when it comes to your budget.  All of these recipe suggestions can be adjusted so that you can use whatever you have on hand.  For example, substitute ground beef for ground turkey, fresh garlic for garlic powder, etc.
1. Roast Chicken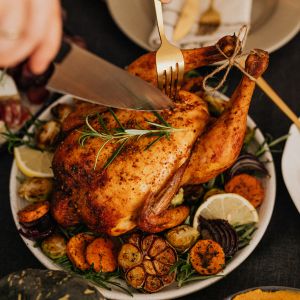 Because you can get a whole chicken for a reasonable price, this is a perfect meal that seems expensive, but isn't. Just include some potatoes and carrots in the roasting pan with the chicken and you have a whole meal in one pan that won't cost you an arm and a leg.
Simply take your roast chicken and season with some salt, pepper, garlic powder, and onion powder. Place it in a roasting pan with rack. Surround the chicken with quartered potatoes and some cut up carrots with half a cup of water and place in a preheated 350 degree oven. Allow to cook half an hour per pound of chicken.
About half an hour before the chicken is done cooking, pour some chicken broth over it. Once done cooking, remove the vegetables from the pan. Mash the potatoes if you'd like and season with a little salt and pepper. Remove chicken to a cutting board and let stand a few minutes before carving. Meanwhile use the drippings from the pan to make gravy if desired. And there you have it – a full meal for under $10.
2. Meatloaf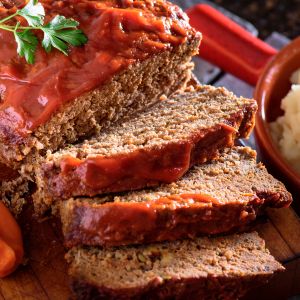 This is an American classic that's inexpensive to boot. Pair this with some green beans and egg noodles for a meal that's less than $10. 
* 1 lb ground beef
* 1 egg
* 1/3 cup ketchup
* 1/4 cup water
* ½ cup bread crumbs
* 1 envelope onion soup mix
Mix all of the ingredients together in a large bowl until thoroughly mixed. Place in a loaf pan. Put in a 350 degree oven for 45 minutes. Remove from oven and serve over egg noodles.
3. Slow Cooker Chicken Stew
A nice hearty meal to really fill you up. Not quick but  it's easy because you can set it to cook all day in the crockpot.
* 6 pieces boneless skinless chicken thighs, cut into strips
* 2 tbsp vegetable oil
* 6 red potatoes, quartered
* 4 cups chicken broth
* Carrots and peas
Brown chicken on both sides in oil. Season with a little salt and pepper. Remove to slow cooker. Add vegetables and chicken broth to slow cooker and cook on low for 8 hours (high for 4 hours).
4. Chili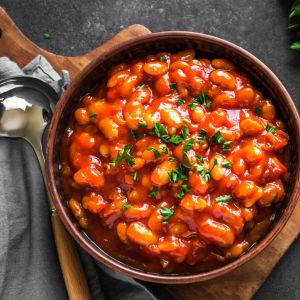 Here's another hearty meal that won't break the bank, but will fill you right up.  This is a recipe that you can substitute whatever you have on hand and it will still taste good.  No black beans?  Use kidney beans, red beans, or whatever other beans of this type that you have a can of.  Canned green beans don't work well, however.  No ground turkey?  Substitute ground beef instead.
* 1 onion
* 1 head of garlic
* Bell pepper
* 15 ounce can of black beans
* 14 ounce chicken broth
* 14 ounce stewed tomatoes
* ½ pound ground turkey
In a large saucepan heat onion, garlic, pepper, and ground turkey. Cook until turkey is done, about 6 minutes. Drain the canned beans. Add to turkey with stewed tomatoes and half of the chicken broth. Bring to a boil. Reduce heat and simmer for half an hour.
5. Vegetarian Tacos
This is really very simple and basic. To make it more filling, use beans instead of meat. Just heat a can of beans in a pan with some chipotle pepper. Add your taco shells, salsa, lettuce, tomatoes, and cheese and you have a quick and cheap taco dinner for the whole family.
So those are just five recipes you can make that won't break the bank. What other meals do you like to make that cost less than $10?