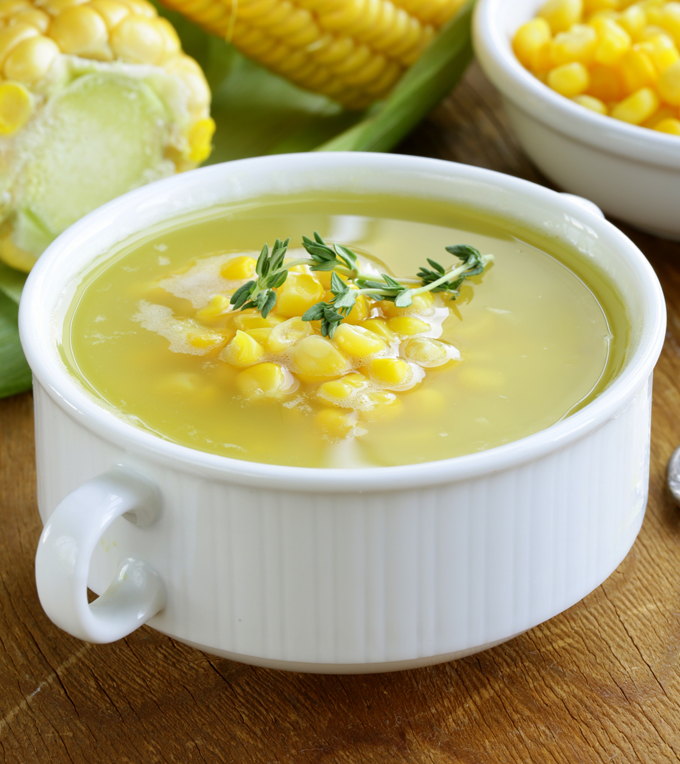 Whenever summer brings fresh corn to my grocery stores and farmers markets, it's time to make this family favorite — fresh corn chowder.  Canned corn can be used to make it "quick and easy" but the flavor of using fresh corn makes the extra time worthwhile.

Corn Chowder
Ingredients
8 ears fresh corn
3 Tbsp butter, margarine, or your favorite oil
5 slices bacon
1 medium yellow onion
½ green or red pepper, cut into small pieces
¼ cup all-purpose flour
1 clove garlic
5 cups water
1 lb potatoes, cut into ½-inch pieces
½ tsp dried thyme
½ tsp dried basil
Salt and pepper to taste
1 cup half and half
1 Tbsp sugar
2 - 3 Tbsp chopped fresh green onions
Shredded cheddar cheese
Instructions
Husk the corn and remove the silks. Cut the kernels from the cob.
Cut the bacon in small pieces.
Chop the onion and mince the garlic.
Melt the butter in a large pot over medium heat. Add the onion, red or green pepper, and bacon to the butter and cook, stirring frequently, until onion starts to brown around the edges.
Add the flour and garlic and cook 1½ minutes. Slowly whisk in five cups of water.
Bring the soup to a boil, stirring constantly, then stir in corn kernels and potatoes. Add thyme and basil and season with salt and pepper to taste. Reduce heat to medium-low and allow to simmer, stirring occasionally, until potatoes are tender, about 20 minutes.
Put approximately 2½ cups of the chowder in a blender and blend until smooth. Stir the mixture back into the pot then stir in half and half and sugar.
Serve in bowls with chopped green onions and cheddar cheese sprinkled on top..