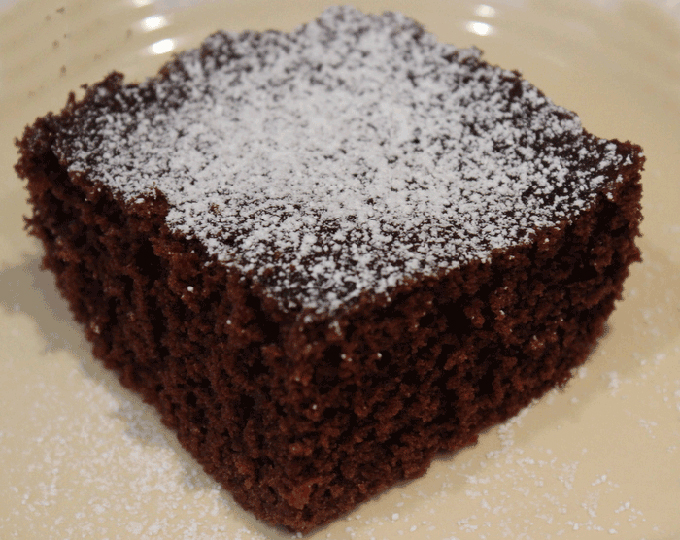 I discovered this recipe many years ago when my daughters were young. I've seen it called crazy cake, wacky cake, cockeyed cake, among other names. It is one of the easiest chocolate cakes to make and comes out beautifully dark, moist and delicious. You can serve it as is with ice cream or cool whip. Or if you have a few extra minutes, sift powdered sugar on the top or whip up a quick and easy powdered sugar frosting.

The World's Easiest Chocolate Cake
Author:
Been around too long to know
Recipe type:
Quick and Easy
Ingredients
1½ coups sifted flour
3 tablespoons cocoa
1 teaspoon soda
1 cup sugar
½ teaspoon salt
5 tablespoons oil
1 tablespoon vinegar
1 teaspoon vanilla
1 cup cold water
Instructions
Grease a 9" square cake pan.
Put the flour in the sifter and add to it the cocoa, soda, sugar, and salt. Sift it right into the greased pan. Make three holes in this dry mixture. In one hole, pour the oil. Into the next, pour in the vinegar; Into the last hole, pour the vanilla. Pour the cold water over it all. Then mix all together until it is nearly smooth and you can't see the flour.
Bake in a 350 degree oven for thirty minutes.
You can top this cake with sifted powder sugar if you are really in a hurry. Or make a quick powdered sugar frosting by sifting two cups of powdered (also called confectioners') sugar. Add a teaspoon of vanilla and mix with enough milk to make the right consistency to spread. For a different flavor, add either peanut butter or cocoa to the frosting.