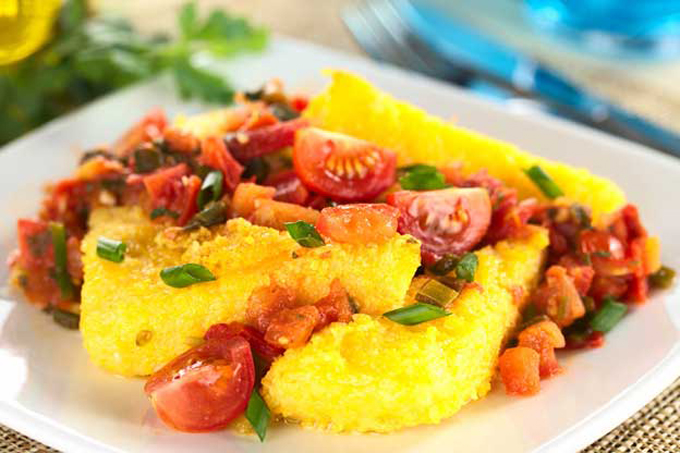 I first discovered Polenta when visiting my husband's Italian cousins who had immigrated from northern Italy where Polenta is a staple as Pizza is to the southern part of the country.
Many years later when I told an Italian friend who was from southern Italy how much I liked polenta, his comment was, "Oh, that is poor people's food."  Poor people's food or not, it is one of my favorites, is healthy as cornmeal is a "whole grain," and is quick and easy to cook.  But best of all, it has more flavor than either rice or noodles.
Traditionally, it is made of coarsely ground cornmeal but just plain old cornmeal works too. It takes the place of rice or potatoes. John and Lena were making a rabbit stew to serve over the Polenta that day when I first discovered and fell in love with it but I've served polenta with just about anything that I would normally serve rice or noodles with.

Italian Polenta
Ingredients
3 cups water mixed with 2 chicken bouillon cubes or 3 cups chicken broth. Just 3 cups of water could be used but the chicken broth gives it more flavor.
1 cup polenta or regular yellow corn meal.
About 3 tablespoons butter or margarine.
½ cup shredded cheese (jack, mozzarella, parmesan or Cheddar). Optional.
Instructions
In a heavy pan, bring the water (and/or chicken seasonings) to boil.
Slowly stir in the polenta or corn meal.
Reduce heat and cook, stirring, until very thick. This takes 5 to 7 minutes.
Remove from heat and stir in the butter or margarine until melted.
Top with cheese to serve as a side dish or serve just about anything that you would serve over rice or noodles for a main dish.
Tip: Place leftover Polenta in a square oiled pan. Cool. Cut into squares. In a frying pan, brown squares in a light amount of oil until it becomes crusty on the outside. Top with cheese and enjoy! I also love it for breakfast with syrup and chopped nuts on the top.